KuttnerSarah Und warum hat der doofe Carrier die doofe Fata eben nicht ordentlich geschubst? Ich verstehe das alles nicht mehr.
Wo ist der Hass?
#gntm
Öffnete gerade mit einem eindeutigen Ziel (bestimmten Follower finden) mobil die Website von Google+. Keine Chance.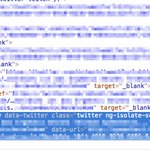 Who cares about valid HTML? Surprisingly a ng-whatever down the tree. pic.twitter.com/UKT4p4FXD6
Alla guuuut. pic.twitter.com/mZcaYPnRqz
stop Logo redesigns follow the 80/20 rule. On reveal, 80% hate the new logo, 20% love it. Two years later: 20% still love it, 80% don't care.