stephenhay When the only way to close your modal dialog overlay shit on my smartphone is to close the page, guess what.
RT @Reesella: Eines Tages wird Leo mit dem Oscar für sein Lebenswerk ausgezeichnet werden und tot umkippen, bevor er die Bühne erreicht.
@bunnyfield In nem Powerpoint wäre die Absätze eher richtig als aus einem PDF ;-)
Da kriegste ernsthaft Beschwerden geschickt, dass bei Copy&Paste aus einem PDF(!) der Zeilenumbruch nicht "richtig" erhalten bleibt im CMS.
@jaffathecake Not to forget that providers (can) implement the browsers on the phones in the first place. "wifi" -> sells more data plans.
@phlp nö. Alles einer. Am Rechner werde ich auch erinnert. Nur hatte ich den natürlich gerade nicht an.
@phlp manchmal gehts ja auch. Nur bei wichtigen Sachen offensichtlich nicht,
@phlp hab ich schon längst. Same same.
@phlp Jo, habe ich alles. Und im "verpasst"-Tab der MZ ist sie auch drin. Habe aber nichts weggedrückt.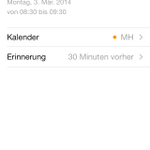 @phlp ist eingestellt pic.twitter.com/ON6waBD0on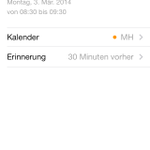 @syn2 eigentlich nicht pic.twitter.com/zWamF2cFlN
Wozu genau ist eigentlich die Erinnerung der iOS Kalenderapp da, wenn sie nie funktioniert?