Bald zurück vom#wke20144. Tolle Organisation und viele Leute endlich mal in real getroffen. Danke für die Einladun@wkeke!
hanelly "All this technology is making us antisocial" pic.twitter.com/DveHw7J6jp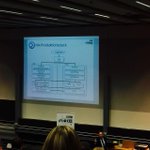 Yay plone \o/ #wke2014 pic.twitter.com/NloG6nzkUj
@xwolf Waren noch paar Minuten da gestanden, aber dann auch ins Hotel.
Paar Folien fehlen noch, aber ich werd fertig, versprochen ;-) #wke2014
AsaTait Fun fact: When my kid watches "Terminator" I will have to explain the concept of a phonebook, but not an autonomous robot killing machine.