RT @panzer: For those of you complaining that USA advanced with 0-1, think of the World Cup as one single game, not individual ones. It's a…
Hat jemand schon ein animiertes GIF?
RT @datenimperator: Habe den CMS-Kunden daran erinnert, dass mein Job getan ist und er jetzt Inhalte einfügen muss.

Kann die Panik geradez…
10 Rechnungen gestellt: 2 bezahlt in 14 Tagen. Nach 8 Erinnerungen: 6 in 4 Tagen bezahlt. Merke: Erinnerung gleich mit Rechnung schicken.
@leralle Gijon war 1:0. Kann ich mit leben.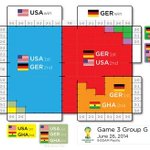 MeredithFrost This is incredibly well done. RT @SBNation Every possible outcome for #USMNT and Group G sbn.to/1ix1tuk pic.twitter.com/9b84Q3JHxD
Mer lasse de @tcaspers in Kölle! Ein dreifach Hoch!