@micha_milz eigentlich sind sie immer nett. Kurz vorm Launch meint halt jeder nochmal was sagen zu müssen, der sich vorher rausgehalten hat.
@martin_fa Jupp. Aber anstatt es zu verreissen wird es ein Ausflug in die Grundlagen des Marketings :D
@Felicea och, mal schauen. So arg verständlich ist die Mail nicht vor lauter Geifer.
Alle fanden es gut, jetzt kommt einer der Vorstände und vermittelt sehr konstruktiv (*hüstel*) seinen Wunsch nach einer Seite von 2001.
Halbe Stunde vorm Onlinegehen kommt eine Mail mit einem totalen Verriss der Seite. Seit 2 Monaten Zeit für Feedback gehabt.
Zwei Seiten sollen heute online gehen. Aber erstmal schön alle Geräte auf iOS8 updaten. #prioritäten
JonyIveParody Don't bitch to me about not having enough free space to install iOS 8. I didn't force you to buy a fucking iPhone with only 16 GB. Assholes.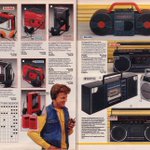 Diese lustige Walkman Ad mit U2-Kassette für umme gestern? Fake. Wie überraschend. pic.twitter.com/EZxOKQER6r