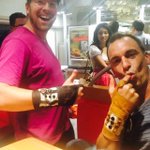 Guys, buy the "Oktoberfist", a leather wearable for very small money from this nice guy on the left. #oktoberfist pic.twitter.com/xV5Sd9i3ls
@pheraph Will sagen: Die Bingo-Karte muss erweitert werden.
@pheraph Alle Aussagen sind der Hammer. Verschlüsselung=sich über das Gesetz stellen. Und die Suche nach Alzheimer-Patienten wird erschwert.
Diese Partner-Bahncard-Werbung… klingt so, als wäre die für eine Schlussmach-Karte. Meine Güte, ist das nervig.
@pheraph Wird wett gemacht durch Nennung von "Kind" und "Terroranschlag" innerhalb von 4 Worten.
@silviii_t Die Frage ist ja, _wer_ diese Rahmenbedingungen bieten soll. Der "Politik" alleine traue ich das nicht zu.