@EnnoBigBenno Hab ein iPad2 mit iOS8 und das geht auch noch. Wenn auch nicht mehr superduperschnell, aber eigentlich keine Probleme.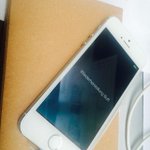 So uncracked
so new
much <3 pic.twitter.com/tW6zBAVxm7
RT @JonyIveParody: 10.10.1 fixes your WiFi problems associated with 10.10.0.

Soon we'll work on 10.10.2 to fix your WiFi problems associat…
Austausch-iPhone ist da. Und hat genauso wie das kaputte 73% Akku-Ladung. WIE MACHEN DIE DAS?
@lrsbck Noch nicht ganz sicher. Abgestürzt bisher nicht, aber so ganz geheuer ist mir das nicht. Mails kommen teilw. viel früher auf iOS an.
@scheibo_ hatte ich nie. Aber ich klick auch selten aus Versehen in die Ãœbersicht.
@tcaspers Marke egal. Wenn zu viel "Spiel" hilft nur Papierstreifen. Muss richtig eng sein. So wie Du es ja auch magst :-P
@_web_ ok, dann bin ich da heute wohl zum ersten mal seit langem aus Versehen hin ;-)
@tcaspers Denn ich dachte auch immer an BT-Probleme, bis ich mal nen Papierstreifen mit reingelegt habe. Kontakte greifen manchmal nicht.
@tcaspers Hier keine Probleme. Sogar Mail bisher stabil. Mal was anderes… Du hast die MagicMouse, richtig? Neulich mal Batterien getauscht?
Seit wann zeigt denn Skype Werbung an?
@paddya91 grad gestern geschrieben und gedacht "hey, ne. Das war doch JavaScript" und wieder die alte Syntax genommen. Wirrwarr.