Eins noch. Gegen portugiesisch sprechende Mannschaften können wir das.
@webrocker @fhemberger @Flocke anders gesagt:Hätten wir diesen Artikel _so_ geschrieben, hätte das keinen gejuckt+die Kritik wäre ne andere.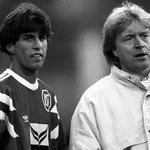 bundesliga_de Heute vor 25 Jahren: Debütant Mehmet #Scholl trifft gleich im ersten Spiel beim 5:0 vom @KarlsruherSC gegen Köln pic.twitter.com/tlkRktKT27
@owzim Ist sie ja auch nicht. Wenn Du mal einen CSS Secret Talk von ihr gesehen hast, weißt Du wie realitätsnah sie denkt.Als Dozent ebenso.
At least the harmful article wasn't published on medium 😜
Waking up reading a swarm full of harmful.
@webrocker das schlimme ist ja, dass die nicht von selbst kommen, sondern weil kaltakquise-seo-spacken sie drauf stoßen.