Okay, Familienaccount gibt es bei Spotify auch. Was ich meine ist eher Account sowie "Identitäten" wie bei Netflix.
Familienaccount und weniger Bugs als Spotify wären zwei Gründe zu wechseln. Bleibt also der Familienaccount als Grund. #AppleMusic
timohetzel Google: Wallet -> Pay
Apple: Passbook -> Wallet
Deutschland: Warten's, I hob des auch klein.
@derPepo meh, zu spät. Vielleicht merkt das neue OSX auch, wenn man auf veraltete Tweets antwortet. Depp-App to the rescue!
Eines muss man aber zugeben: Die Keynote-Seite (leider nur auf Safari) ist ziemlich gut gemacht, vor allem, wenn man später reinschaut.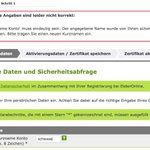 Ah so. STEUER-ID. Gut. Danke. Kontokurzname ist auch spitze. Passt immerhin in 8. pic.twitter.com/YqOplAikCz

Elsterprofis: Welche Nummer soll das sein?Neuregistrierung, die ja nötig ist für neues Zertifikat, warum auch immer. pic.twitter.com/HIoYi9WmYs
@phlp hier ok. Chromium 41.0.