pang Brain hurting pic.twitter.com/D2NB7pbfaW
@SenseException wozu auch immer. Screen1 ist tatsächlich alles, was dafür verantwortlich ist. Minimale "Dynamik".
@maddesigns Finde ich auch schlimm. Da kauf ich mir lieber noch ne Tweetbot-Lizenz.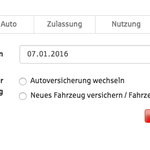 Screen1 verursacht Screen2. Time to render 4,5s. Faszinierend. Wüsste nicht mal, wie man das böswillig hinbekommt. pic.twitter.com/Pi6VZO14tG
Wenn die in diesen Haufen Scheiße jetzt noch 72mal so viele Zeichen pro Tweet rein rotzen wollen, explodiert vermutlich alles.
(Geschäftsrechner, sonst nutze ich ausschließlich Tweetbot und frage mich, wie Twitter sich so lange halten konnte ohne "richtige" App)
Ziemlich faszinierend, wie kaputt die Twitter App aufm Mac ist. Umfragen gehen immer noch nicht,Notification-Chaos, Bilder öffnen nicht etc.
According to @realDonaldTrump wearing guns helps to prevent terror. Germany is a mess because man got shot in Paris. In a police station.